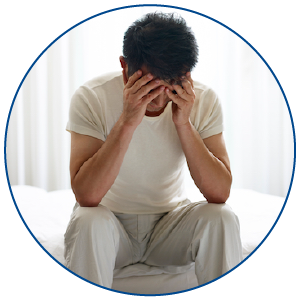 Insufficient rigidity / erectile dysfunction has profound impact on a person's quality of life. It does not only mean a loss of sexual satisfaction, but it also creates adverse effects on intimate relationships. The inability to have sex makes someone suffering from it feel inferior or unmanly. This may also lead to social inhibition and poor self-image. Instead of finding cure to the problem, most people try to cover up their conditions. They may avoid sexual contact with their partners and this leads to marriage breakdown eventually.  
If you have such problem, you should not hesitate to consult a doctor immediately. To discuss your problem with your partner and gain her support are also important as her involvement would definitely help during the progress of treatment.
When to Seek Medical Help?
All men at one time or another will experience insufficient rigidity / ED. If the problem becomes persistent — occurs more than 25% of the time and lasts for more than 2 months, or becomes a source of distress for you or your partners, you should seek medical assistance. The sooner it is diagnosed and treated, the better the outcome because:
early identification and correction of the underlying problems (can be physically or psychologically) can prevent further deterioration.

the earlier insufficient rigidity / ED treatment is started, the better the opportunity for an effective treatment plan to restore healthy blood flow to the penis and spontaneous erection.

a healthy sex life can contribute to healthy self-esteem, self confidence, better relationships, and satisfaction in many other aspects of life, including social, family and work environments.